Days of Hearts – Collection
Fundraisers belong to our long-time, traditional and very popular projects to which we have dedicated ourselves ever since our foundation and they are presented and publicized as "Days of Hearts".
The fundraiser "Days of Hearts" came into public awareness as a charitable event, which takes place three times a year – in spring, autumn and winter. There is always a surprise for people on the streets approached by high school students, who offer them gift items with a smiling sun, which is our symbol for good luck and also our logo.
You can read the stories of children who you can help HERE. (link and text is being prepared)
Previews of visuals from recent collections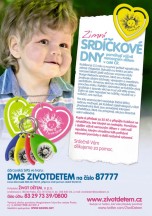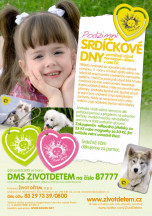 Proceeds from the collections are used largely for the purchase of medical equipment, wheelchairs, pushchairs, reimbursement of treatment supplies, curative rehabilitation for seriously ill children who are permanently dependent on home care of their parents and also to purchase other necessary equipment for the children's wards of hospitals, clinics and other facilities caring for sick and disabled children. Proceeds from the winter collection project go to support education each year.