25.6.2016
6th annual event "Karviná children help" has earned 30,100.00 CZK for Kajka and Mimi
The event took place on June 1, 2016 on Children's Day in Mendel Elementary School in Karviná. In support of the 7 year old twins over 100 performers performed and the performances were attended by more than 550 students of elementary and secondary schools.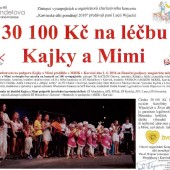 On Thursday, 6. 16. the check was handed over during the celebratory ceremony by Mgr. Pavel Wojnar to the twin sick girls Karolina and Miriam in front of Mendel Elementary School in Karviná. In addition to the twins and their mother, representatives from the Mendel school and School of Nursing in Karviná have also attended the ceremony. We were able to carry out the message of the motto of this event "Do not expect what we will get ourselves, but donate to those in need instead!". Mostly thanks to the large amount of todays youth participating! The organization of this event was financially supported by the municipality of Karviná. Thank you!
Mother of the twins has expressed her gratitude directly on stage at the end of the concert, also during the handing over of the check and answered questions of those present about her children. For example, she explained what the girls are capable of, how they are improving when they have adequare care of physical therapists and other professionals.
Apart from a few individuals many other representatives from local schools in Karviná have contributed to the amount of 30,100.00 CZK!
Primary and Nursery School Slovenská – 650 CZK
Primary and Nursery School U Lesa – 2,050 CZK
Primary and Nursery School Školská – 2,750 CZK
High School of Technology and Services Karviná – 4,450 CZK
School of Nursing Karviná – 5,250 CZK
Primary and Nursery School Menedelova – 14,550 CZK
Thanks to all who contributed and participated in the performances. Special thanks goes to Mgr. Pavel Wojnar, deputy director of the Mendel Elementary School in Karviná for organizing this beautiful and much-need event! Look at pictures from the show here www.shot.la/K7iJi
You can contribute to the treatment of Kajka and Mimi by sending a donation to account number 83297339/0800, variable symbol 3232.
More information about these two girls can be found here www.kajkamimi.cz.